Hey everyone,
It's Vincent. Just checking in to post some sketches from Sunday's trip to the Park.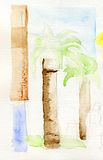 This was my view out from the De Young Cafe. It was a nice day out that day and everything was looking great. I got bored of this pretty quick though and moved on.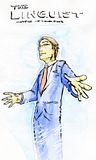 During the conversation one of our sketchers said that if he had a superppower, it would be to speak every single language fluently. I'm a visual person and a comic book artist so I immediately thought of this.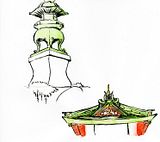 I had to leave a little earlieer than everyone else, but before I left I got in a few nice sketches of some things from the Japanese Tea Garden. I wish I had more time there because the flowers and plants were amazing to look at. Great for still life practice!
That's it for now. Hope you all had a great weekend and I want to see you at the next one. That means YOU!